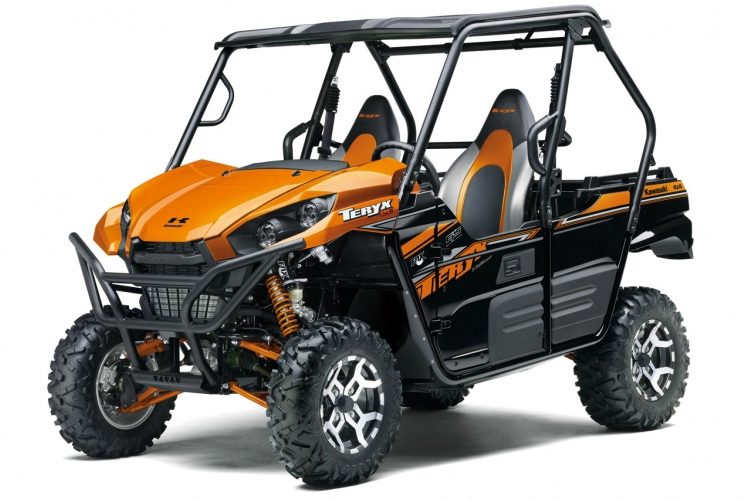 Kawasaki offers a perfect sport and utility side-by-side with the TERYX EPS 2019. Challenge it! Whether it is to tackle the most demanding trails or to help you accomplish your most difficult tasks, it will not disappoint you. It is a robust, efficient and practical vehicle.
Equipped with a liquid-cooled, single overhead camshaft (SOHC), 4-valve, 783cc V-twin engine, the Kawasaki TERYX EPS 2019 delivers all the necessary power for your different needs. Two-wheel drive, four-wheel drive or four-wheel drive with front differential lock, the choice is yours for optimal traction.
Front and rear FOX Podium 2.0 shock absorbers provide superior traction and comfort in rough terrain. The braking of the Kawasaki TERYX EPS 2019 is extremely powerful and reliable, even in rain or mud. Its main frame in welded double-X offers even more strength and durability.
You will be impressed by its agile handling thanks to the electric speed-sensitive power steering, which improves performance and provides maximum support at low speeds while being smooth and predictable. The continuously variable transmission (CVT) with centrifugal clutch offers instant engine response, longer belt life and automatic engine braking, which is ideal for steep slopes.
Regarding the TERYX side-by-side comfort, you get an adjustable driver seat, hinged doors and auxiliary DC jacks for you to use your electronic devices. With a towing capacity of 590 kg (1,300 lb.) and a large 182-liter rear storage, the TERYX has the largest load capacity in the RUV category.
Make the choice of a versatile and reliable side-by-side with the 2019 Kawasaki TERYX EPS to discover at your Moto Sport 100 limites dealership in Drummondville.